WHAT ARE DERMAL FILLERS?
Dermal fillers injections restore lost volume and smooth out lines and wrinkles caused by ageing.
Dermal fillers are one of the most popular aesthetic treatments available today. They can be used to enhance the lips, augment the cheeks, diminish fine lines and wrinkles such as smoker's lines and nasolabial folds (nose to mouth lines), re-shape the nose (non-surgical nose-job), correct hollow tear troughs (the area under the eye) and rejuvenate the backs of the hands, neck or décolletage.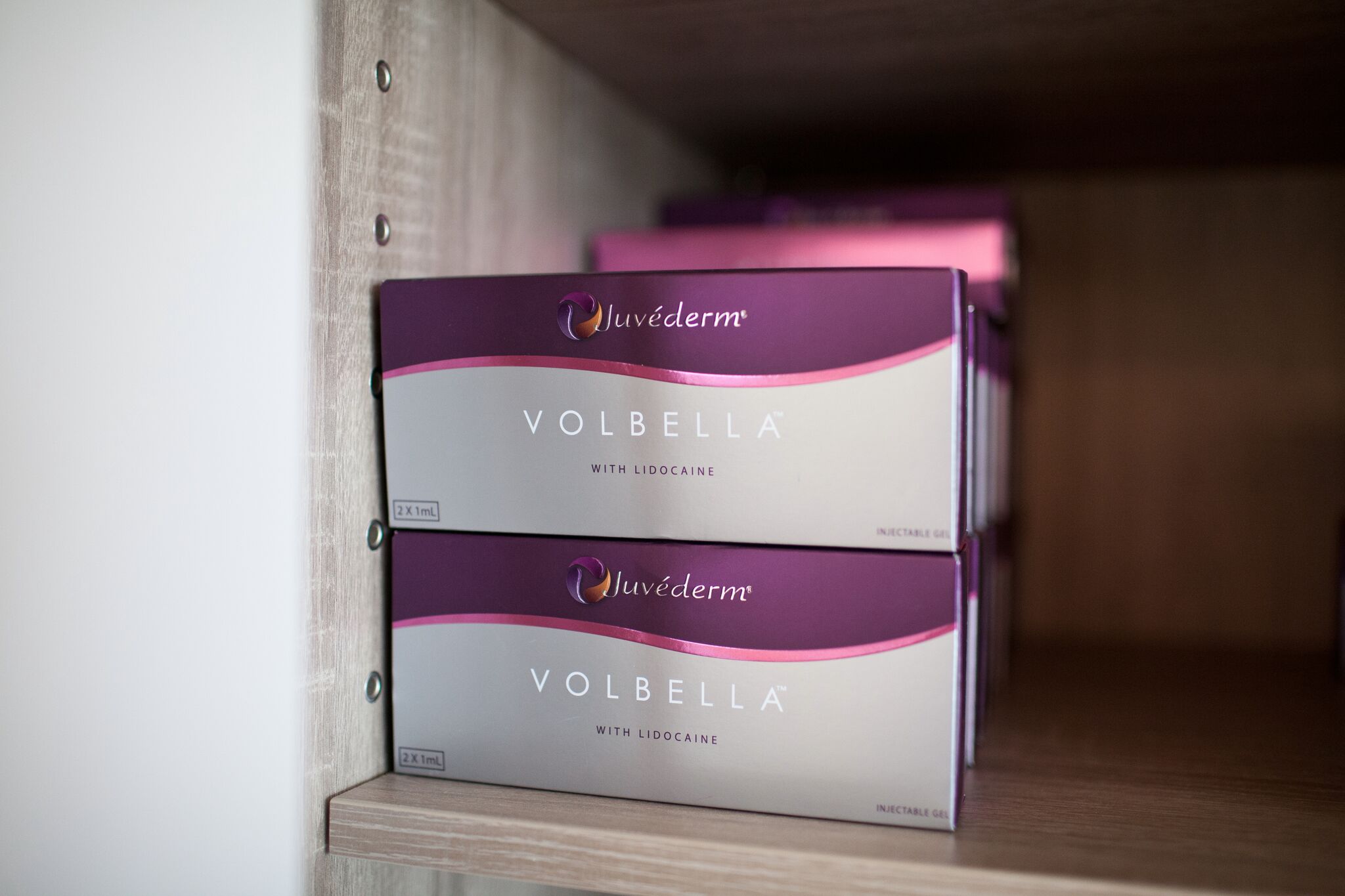 Why should I choose fillers?
Natural - tissue tailored HA resembles the skin's own material
Safety - over 10 million treatments performed over 10 years
Long lasting - but not permanent (typical results last 6-24 months)
Quick and simple- most treatments take ‹ 30mins to complete
When we are young our skin has natural hydration, as we grow older this hydration dries out, which makes our skin look dull and wrinkled. We can use creams which will temporarily moisturise the skin but cannot maintain the deep hydration needed to give us back the elasticity and healthy glow we had when we were younger.
The 8-point Lift
The 8-point lift, also known as the "liquid face lift" or non surgical facelift. The procedure is based around eight suggested injection sites designed to give optimal support to the facial structure, resulting in a natural lift that restores youthful balance. It is a bespoke treatment that takes a lot of training and depends on the artistic eye of Dr Acquilla to assess what is needed in the individual.
Tear trough treatment
Our eyes show the signs of premature ageing, under eye hollows, known as "tear troughs" or "eye bags" can make you look tired and older than your years. For the right candidates, tear trough treatment can be transformative, diminishing the aging dark shadows and naturally replacing the lost volume that is making the under eye area look hollow. This treatment is not suitable for those with puffiness (oedema) or prolapsed fat on the lower eyelids may still need blepharoplasty surgery
Lip enhancement
Lip enhancement is becoming more popular with younger patients who have naturally thin lips and need volume adding to them but also patients who would like to address the signs of ageing in the whole lip area such as "lipstick bleed lines" or "smoker's lines".
Dr Acquilla will achieve subtle, natural looking results for you and not a "trout pout".
The non-surgical nose job
Injection Rhinoplasty, also known as the "non-surgical nose job" means we can contour and shape the nose without surgery. It can be used to correct prominent bumps on the bridge of the nose as well as to refine its profile, making it appear straighter. Dermal Fillers can also be used for the tip of the nose if it is hooked or downturned or to address a prominent or upturned "ski-slope" nose.
Chin augmentation
Non surgical genioplasty or chin augmentation with dermal fillers can offer comparable results to a surgical chin implant. Dermal fillers can be used to balance the facial profile by lifting, contouring and adding more definition to the chin.
In men it contributes to masculinity whereas in females it symbolises sensuality. Women have narrower faces where the chin is more delicate and projects light in a single point.
Dermal fillers for cheek enhancement
As we age we loose the volume in our cheeks causing a droopy appearance and creating deep folds, which can make us look sad.
We can add volume back into the cheeks non-surgically using dermal fillers. This is a popular treatment today, Dr Acquilla does this treatment very subtly so you get natural looking results not the unsightly "pillow face" look.
The RA Face-lift
The RA Face-lift is our signature treatment using dermal fillers which takes a global, a full-face, approach to restore harmony and balance. Rather than treating different areas in isolation, Dr Acquilla developed the RA Face-lift to treat the whole face and give patients natural looking rejuvenation without surgery. The treatment can be performed in your lunch hour and is the ultimate non-surgical liquid face-lift.
Eyebrow and temple reshaping
For the deep static lines on the forehead or hollow temples dermal fillers can be very effective. Dr Acquilla often uses fillers in combination with Botox for a non-surgical brow lift.
What does dermal filler treatment involve?
Before your treatment, you will need to have a thorough medical consultation where we will take pre-treatment photos and make sure you fully understand the treatment and are suitable for it.
We usually use local anaesthetic cream or injections used to increase comfort during the treatment.
Depending on the area being treated we may use a needle or a cannula to place the product under the skin.
Some patients may experience a mild stinging or burning sensation as the product is injected, but any discomfort should be minimal due to the anaesthetic.
Injection sites will be massaged to promote even integration of the product into the tissue. Treatments usually take less than 30 minutes to complete.
Are Dermal Fillers Safe?
Dermal fillers are not prescription only medicine, the UK currently lacks any kind of regulation surrounding who is injecting them so it is vital to go to a qualified professional for your treatment to avoid the possible side effects. There are countless fillers on the market and not all of them have clinical trials to support their use.
Dr Acquilla is the UK Ambassador in Facial Aesthetics for Juvederm, a hyaluronic acid dermal filler which is made by Allergan, the manufacturers of Botox. Dr Acquilla is a key opinion leader and trainer for the company and the products have clinical trials and data to support their safety and efficacy.
In the right hands dermal fillers are very safe and effective. In general HA fillers have very low complication rates. Common side effects can include redness, swelling and bruising at the injection site for a few days after treatment. More severe adverse reactions can include granulomas (nodules), necrosis and excessive swelling, but these are rare.
CAN I FLY AFTER HAVING DERMAL FILLERS?
YES after 12 hours
CAN I GO TO THE GYM AFTER HAVING DERMAL FILLERS?
NO Its recommended to wait at least 12 hours.
CAN I DRINK ALOCHOL AFTER HAVING DERMAL FILLERS?
NO Its not recommemed for 12 hours
Can Dermal Fillers be used at the same time as laser IPL and skin peels?
It is recommended that following Laser or Peels, the skin is allowed to recover for 4-6 weeks before undergoing dermal filler treatment.
How long will it take?
Most procedures can be completed within 30 minutes.
Will it hurt?
Some patients may experience a mild stinging or burning sensation as the product is injected. This is reduced significantly by application of a local anaesthetic cream prior to treatment.
How long will it last?
Treatment result last between 6-24 months, depending on a variety of factors such as product type, area injected, degree of correction, age, skin type and lifestyle.